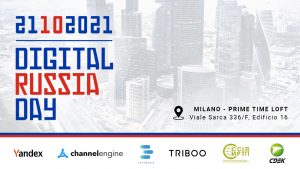 Inizia a vendere i tuoi prodotti in nuovi mercati , scopri quali sono le opportunità che la Russia offre alle aziende che desiderano vendere i propri prodotti in uno dei mercati più proficui del momento.
Vorresti conoscere meglio il mercato russo da un punto di vista strategico?
Allora non perderti il "Digital Russia Day", un evento esclusivo dedicato al mondo digital e all' e-commerce in Russia.
Scopri quali sono le migliori strategie per il tuo brand: dal posizionamento alla distribuzione dei prodotti, passando per la promozione e vendita online su e-commerce proprietario o marketplace cross-border.
L'evento si terrà il 21 Ottobre 2021 dalle 14.00 alle 19.00 presso Prime Time Loft – Viale Sarca 336/F, Edificio 16, 20162 Milano. I posti sono limitati e si potrà accedere solo se muniti di Green Pass.
Iscriviti gratuitamente al link: https://triboogroup.ac-page.com/digital-russian-day-21102021
Di seguito il programma dettagliato:
– 14.00-14.30: Registrazione
– 14.30-14.40: Welcome
– 14.40-15.05: Opportunità e prospettive di affari nella Russia post Covid-19
Leonora Barbiani – Segretario Generale Camera di Commercio Italo Russa
– 15.05-15.30: Vendere online: lo scenario in Russia
Ksenia Tsareva – Business Development Russia di East Media
– 15.30-15.55: E-commerce: approccio al mercato e strategie di sviluppo
Manuela Figini – Ecommerce Business Director Triboo
Michele Buttazzoni – Chief Transformation Officer Triboo
– 15.55-16.20: How to scaleup on the marketplaces via automatization*
Olga Yatsenko – Partner Manager Eastern Europe & CIS Market Channel Engine
– 16.20-16.45: Soluzioni logistiche: gestire le spedizioni verso i mercati CSI
Ruslan Stash – Rappresentante CDEK Italia
16.45-16.55: Coffee break
– 16.55-17.20: Opportunities for premium and luxury brands at Yandex (speech in lingua inglese)
Kateryna Mikula – Yandex Partner Manager Europe
– 17.20-17.45: Seo in Russia: tips & tricks per espandere il tuo business
Emanuele Arosio – Head of SEO Triboo
Svitlana Serikova – SEO Russian Specialist Triboo
– 17.45-18.10: Social Media: dal posizionamento al drive to store
Darja Janovica-Marcenko – Head of Operations Russia East Media
– 18.10 – 19.00: Aperitivo networking
Gli esperti delle aziende che lavorano nel mercato russo saranno a tua disposizione per guidarti nella strategia e individuare le opportunità per il tuo business. Non indugiare, clicca qui per iscriverti!